What singing with 250 taught me about small choirs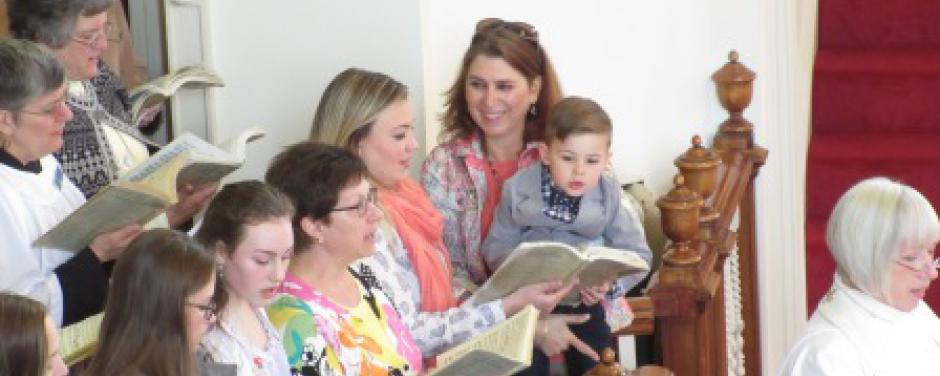 Singing with a chorus of 250 was a real treat! I sometimes stopped singing just to hear the beautiful blend of voices around me. There were so many very good sight readers. Yet the conference brought to my attention that half of those attending had small choirs with 15 or less members. The choirs are getting older…lacking the young spirited voices.   Some churches have a second service for the young families with of course traditional praise music. Some churches are working to blend the older, more traditional members with the younger.
It was also apparent, from listening to others, that congregations often need support when singing hymns. Here at first church I have asked our soloists to lead the congregation when singing hymns when the choir is not present.  Familiar hymns are always good, but new hymns are needed to support the theme of the service. And some become old favorites as time marches on.
But sitting and listening to the clinicians – presenters- I also realized that everyone attending was there to find music that works best for their congregation and choir(s). Some have a bell choir, a children's choir, and regular adult choirs. Missing was the youth choir… Here, our children are not only singing, but learning to play the bells. I have worked very hard to find new music and blend it with the older traditional anthems. And although we don't have, as yet, a praise service, it may happen in the near the future, but not without the money to support such music as it would be a hired band, as is our jazz band.
To our advantage, and unique to the area, is our popular jazz band service. The music for this service is different and draws new people to our sanctuary. It is for those searching for different music at a church service. Many people at the conference listened curiously when I told them about it.
I will conclude by saying that with the jazz band, our soloists - both vocal and instrumental, my anthem variety, and church school music, I have tried to reach out musically to all of our parishioners.
I want to thank Tim Koch for his wonderful interpretations this past Sunday. He is always a pleasure to hear. It so nice when he is available and willing to share his wonderful musical talents!
A slight change in the pre-service music. Instead of a pre-service sing, I will select several hymns to play. Should it be a familiar hymn, please feel free to sing or hum along.
Music… works for me. Jim Moriarty