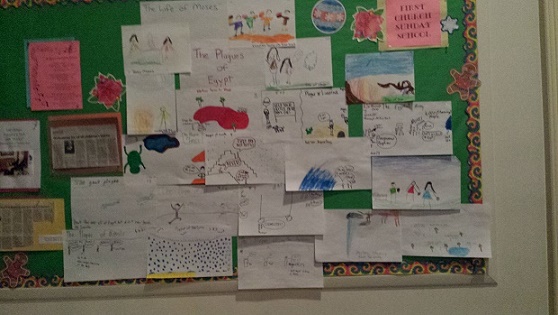 Christian Education
Church School Is Open
Art projects, cards for members who are sick, and plenty of good Bible Stories await! Miss Cindy and Miss Marcia are taking every precaution to make church school a safe and fun experience for your children.
Your children will be asked to follow these guidelines, which are designed to protect everybody's health and safety:
Masks are required. We will provide a mask if you don't have one or if you forget it.
Use hand sanitizer before class begins. We provide that too.
Class meets in Annie Orr Hall, which assures your children will have plenty of room to maintain social distance.
Do not share art supplies. Each student will receive their own bag of brand new art supplies. The scissors, which will be sanitized after class, will be reused.

No outside food, please.
If you have any questions or suggestions, please contact Cindy on Sunday.
A Church School for Challenging Times
We all want our children to have wholesome and wonderful lives, throughout their lives.  When times are challenging, we want our children to have a firm foundation of positive experiences and beliefs that help them through those times the best way possible.  At First Congregational Church of Danbury, we believe our faith helps accomplish this goal and we help our children to understand the benefits of faith through Christian Education.
Our Nursery: Our bright nursery room offers child care for our littlest ones. 
Our Curriculum: Preschoolers through eighth graders stay in worship for a Children's message then leave for church school.  The curriculum we use offers opportunities to learn the stories of the Bible through a variety of methods- drama, cooking, art, and science are the most popular.  In the past our Senior High class met twice a month to discuss how their faith can help them understand contemporary topics and daily life.  Take a look at some of the photos on this website and you'll see a wide variety of children's activities including mission trips, youth fellowships, vacation Bible school, and church camps.  Over the years, we have helped our children develop long lasting friendships and a hefty dose of confidence with which to face the world as people of faith.
Our Staff: Christian Education is run by parent volunteers with the assistance of our pastoral staff, including Pastor Pat Kriss and the current Yale Divinity School intern.  It's a warm, cooperative group comprised of people with the same goals – to foster the spiritual health and well being of their students.
Please bring your child after the Children's Message during the service each Sunday, to see for yourself.  With Christian Education, the more the merrier!
To Volunteer or ask questions, please write office@danburychurch.org.