From Reverend Pat Kriss: When God Breaks into Our Routine
The moment when a Truth with a capitol "T" enters our lives.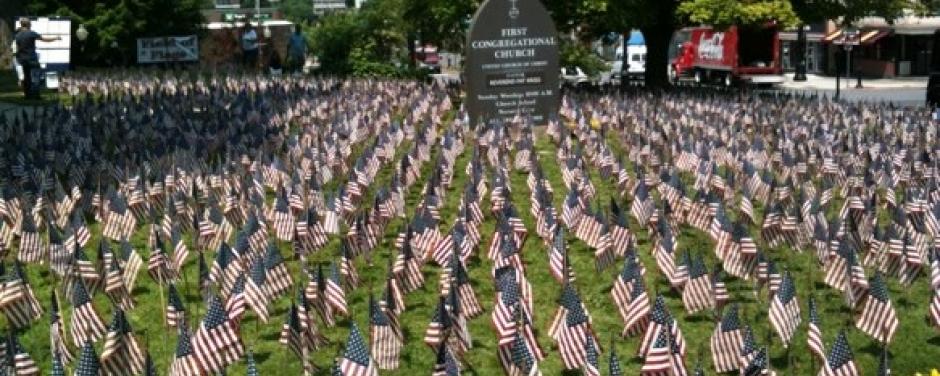 (Posted May 24, 2018)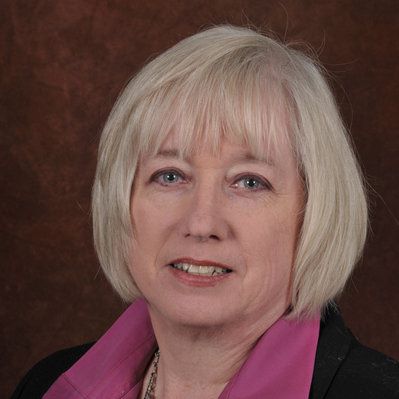 It's probably happened to most of us at one time or another: That moment when, without warning, we have the sense of God "breaking into" our everyday routine. It's the moment when a Truth with a capitol "T" enters our lives, when there is a palpable sense of the enormity of God's message. On this weekend as we observe Memorial Day, I think about a particular experience in 2012, when I had arranged for 6,500 flags that were part of the Field of Flags exhibit, to be delivered to the church I served in North Adams, Massachusetts. Each of those flags represented a soldier or peacekeeper who had lost their lives in Afghanistan or Iraq. The flags had to be placed in the ground in neat rows, across our church lawn.
Worship with Us
Services begin at 10 a.m. All are welcome.
Like many other things that happen in churches, we tend to embrace projects but then neglect to sign up to make them happen. I had for weeks talked about the project, and while everyone was enthusiastic, only a few people registered on the sign-up sheet. But nowhere the number needed to install 6,500 flags. I prayed about it, but I also worried. Then came the morning the flags were delivered, at 7 a.m.sharp. Within a short time, some volunteers showed up. And then more…. and then a group of school children. Pretty soon there were people pulling over in their cars to our little corner on Main Street, and getting out to help. As noontime rolled around, the people who came daily to receive a free, sit-down lunch at the Berkshire Food Project in our church kitchen saw all of us, and joined in. Gulf War vets in motorized scooters for whom any movement was painful, were bending over to plant flags in the ground. The volunteer base now included more than church members. It also embraced total strangers and those whose handicaps and addictions did not slow them down in making sure we completed The Field of Flags. The whole thing was installed, complete, by 1 p.m.
Although my earlier prayers had been answered, I then began to worry. How will we protect this precious tribute to those who had been lost, from any vandalism? I prayed to God. "I need an angel. Right now, on Main Street!" The next morning as I came up the sidewalk into the church, a slightly nervous man limped up to me. "Hey, Pastor. I just wanted to let you know that my girlfriend and me live in that apartment right across the street. We can see all the flags from our place, and we're going to keep watch over it from now on." I recognized him as one of our lunch diners, who explained that he was an Iraq vet, wounded in body by an IUD, and in spirit by his PTSD. His role as guardian angel gave him new purpose.
God shows up when we least expect it, sometimes grabbing us by the lapels, saying, "I've got this. Trust and be amazed." On this Memorial Day, I'd like to remind us all of that, and add that, in the month that those 6,500 flags were on the church lawn, not one flag was lost. Trust, and know that I am God." – Pastor Pat Kriss