From Pastor Pat: Father's Day Reflections
Explore the humorous and poignant aspects of having God as a parent.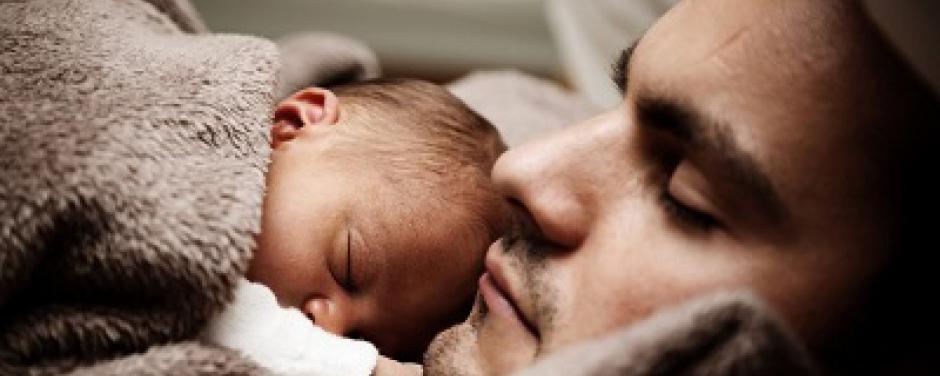 (Posted June 18, 2015) 
This coming Sunday, popularly called "Father's Day" in our culture, gives us a moment to think about our unique relationship with God, and some of the parallels between being a Child of God and also being the earthly offspring of our often exasperated and stressed-out earthly parents.
When I think along these lines I'm often reminded of one of my favorite real stories from real children who are attending church school. A Church School teacher asked her children to draw a picture that illustrated Adam and Eve and God, when they were in the Garden of Eden.
Most of the children handed in pictures that included Adam and Eve and a snake or an apple. But one little girl's drawing showed a very long station wagon with Adam and Eve in the back seat. Up front in the driver's seat was a white-haired man with a beard. Puzzled, the teacher asked the girl to explain her artwork. Surprised by her teacher's lack of comprehension, the girl said, "It's really clear… That's God driving Adam and Eve out of Paradise!"
In our own reality, most of the world's ills come from the backseat of God's own SUV. We sit back there with our brothers and sisters and pick fights because we apparently have forgotten who's in the driver's seat, or even forgotten to look for God – our battles are that intense. We forget who's steering the car. And when God calls back to us to simmer down, we often whine about our world being unfair – that things aren't going the way we want them to do. Especially when we're "the good ones" and deserve to be rewarded, when our siblings are not so nice.  Not that we're not in good company. A frustrated and suffering Job questions God about fairness in this Sunday's Hebrew Bible. And in the Gospel when Jesus snoozes in a boat as a fierce storm comes up, the disciples panic and think they're going to die. Jesus tells them, "Do not be afraid." It's interesting to note that Jesus doesn't say that there's nothing to fear. There ARE things to fear, real risks. But what he wants them and us to note is that, no matter what, God is with us.  We'll explore some of the humorous and poignant aspects of having God as a parent this Sunday. Please join us!  --- Pastor Pat Kriss