From Pastor Pat: A Day of Abundance
It is imperative that we come together ... to recognize our brotherhood before the divine.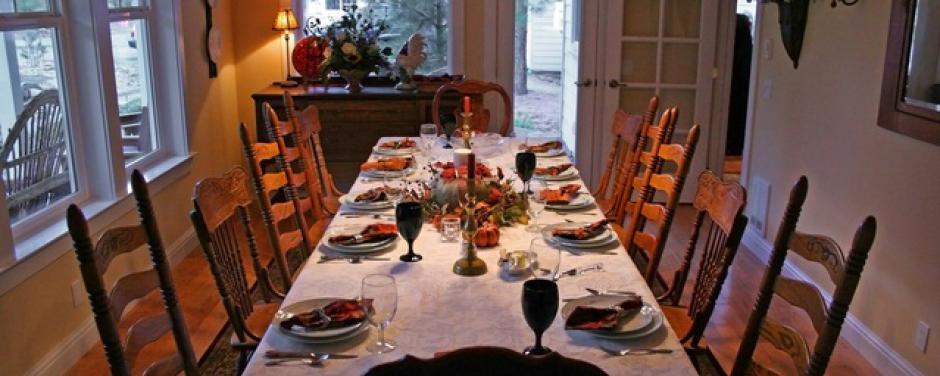 (Posted November 20, 2015)
It's easy to forget what Thanksgiving Day really means in this era of high pressure marketing, and a consumer culture. No – it's not Turkey Day. It's not "one day till Black Friday Door Busters!" And, even though we all do a little bit of it, it's really not Gluttony Day, either.
It's Thanksgiving. It's a day to recognize the abundance in our lives – the nourishing presence of family and friends in our lives – around the symbolism of bountiful food. That recognition is Gratitude. If we haven't been numbed by a sense of entitlement, of toxic "specialness" that says we deserve all these blessings -- then we will find that our good fortune evokes in us a sense of Thankfulness. What has grown out of that thankfulness, all the way back to the early days of our Pilgrim forefathers and mothers, is Thanksgiving Day, put into existence by Abraham Lincoln in the midst of the Civil War.
It's not Turkey Day. It's Thankfulness for our Blessings Day.
Traditionally the way we've expressed this thanks is to gather as a community, whether large as a house of worship, or as small as a kitchen table, to share food and companionship. The other way we extend our community is to share our bounty with those not quite as fortunate as we are, with food and support. Especially in these days of so much conflict and pain caused by a lack of respect for individual beliefs, it is imperative that we come together as an interfaith community to recognize our brotherhood before the divine, and to understand that the best impulses of our respective faiths are the same – a love of justice and brotherhood.
I'd especially like you to join me next Monday (Nov. 23) at Danbury United Methodist Church for this year's Interfaith Thanksgiving Service at 7 p.m. May we all heal. May we all advance our ability to forgive. May we all be filled with the kind of light that dispels darkness, and makes room for wisdom. See you there at 7 p.m. A very Happy Thanksgiving to you all.----Pastor Pat Kriss