Music Minsitry: Voices Raised
Peace and Joy through music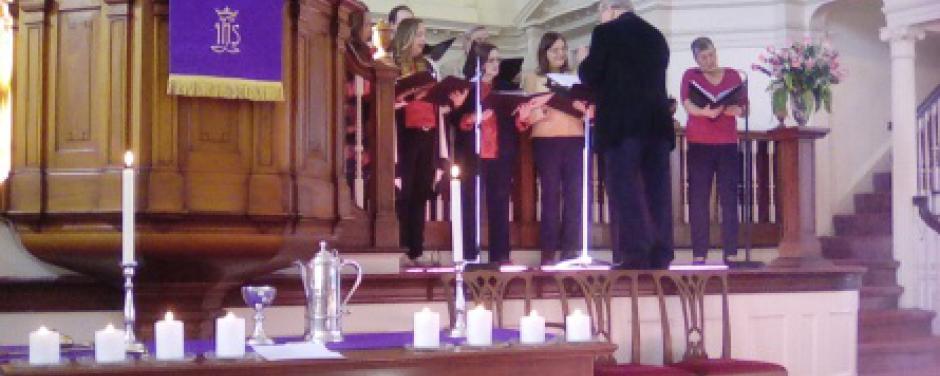 (Posted April 2, 2016)
It was so nice to have so many people come forward to sing the "Hallelujah Chorus" at the conclusion of our Easter Service. It reminded me of when we had as many as thirty in our adult choir back in the seventies and early eighties! And although things are a little different now, I am still honored to have such a small choir with such wonderful musical talents!  Several members were ill and unable to sing, and this is why it would be nice to have a few more voices. So if you were in the choir loft this past Sunday singing the "Hallelujah Chorus," please, please, please come back and join us again.
This Sunday the choir is off for some needed rest. I have a young woman, Jane Mead, whom I met at the DMC chorus. Several months ago, she asked if she could share her musical talents. I agreed. She will be our featured soloist this coming Sunday. She will sing the very beautiful "Pie Jesu" from Faure's Requiem, along with another selection by Bach. She will also lead us in the singing of the hymns. Go to our website for more information. I had asked her if she wanted to be considered for one of our Rising Artists Concerts, and she said she wasn't ready yet for something like that. But I am sure it won't be too far in the distance.
The choir is scheduled to sing on the 10th of April, and May 1st. Jazz Sunday's return on the third Sunday of each month – April 17, May 15 and June 19. This Sunday afternoon, Tina Heinrich will bring her Master Chorale to our sanctuary for a concert beginning at 3 p.m. Check out their website for more information.
I also want to thank the Danbury Music Centre for lending us copies of the Messiah for our Easter Sunday Service!
Peace and Joy through music. - Jim Moriarty