Music Ministry: What is a Carol?
Of joyful hymns and religious songs.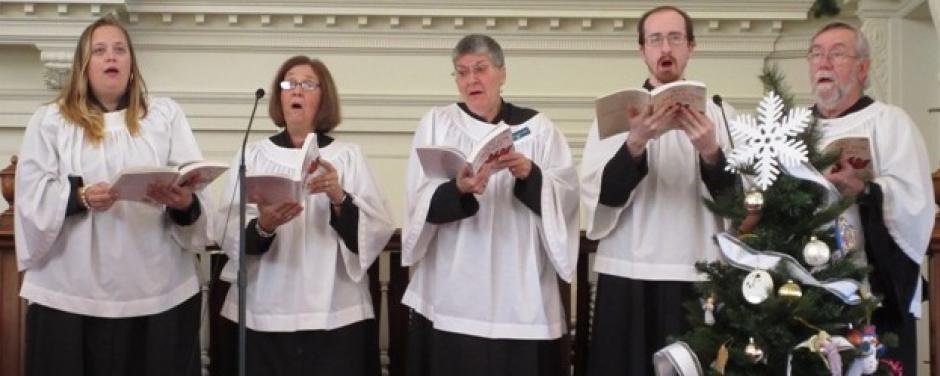 (Posted January 16, 2015)
I need to thank my choir for helping to make our Holiday Season so musical! I know it means so much to have the choir present at our services and they need to be commended! We are few in numbers making it difficult to have enough for a four part anthem every Sunday. So I plan to have the choir on the second and fourth Sundays, with Jazz Sunday scheduled for the third Sunday.
I thought it was interesting to hear that some people wanted more 'carols' sung during the service. This caused me to look up the definition of carol and what I found was very interesting. Carols originally developed in France as a joyful dance between 1150s and 1350s. During the Protestant Reformation these songs were discouraged in religious services. In later centuries a carol was defined as a joyful hymn or religious song celebrating the birth of Christ.  As time passed, these hymns were classified as either Advent or Birth. But, we also have carols that are called Christmas songs. And of course we have songs about winter that are associated with Christmas, and finally songs about Santa Claus. I chose, from our Pilgrim Hymnal, carols from the Advent section and of course from the Birth section. There are many more hymns for the Birth of Jesus, which is of course on Christmas. Because there is a minimal number of Advent hymns which is four weeks long, I also included several Christmas songs.
And speaking of carols, I also want to thank Pastor Pat for suggesting a Carol sing for Sunday, December 27. It was a nice service that may become a tradition at our church.
This Sunday, January 17, is Jazz Sunday, and Doug Hartline and his ensemble will return.
Peace and Joy this coming year through music,