What Does John 3:16 Mean?
A promise that Christ did not come to us to blame or shame.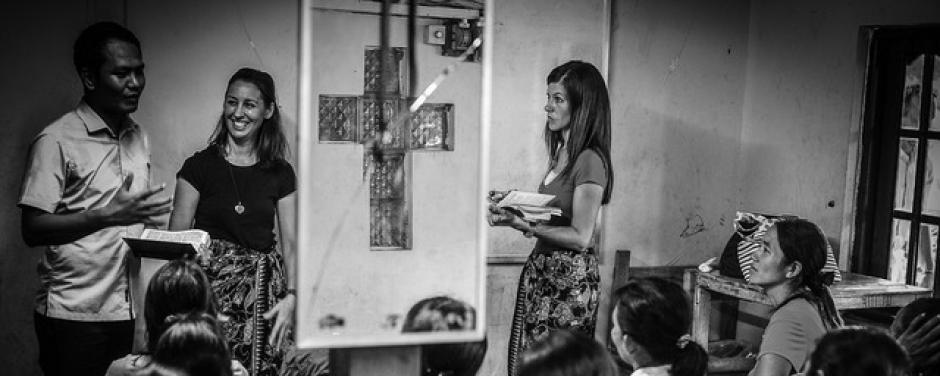 (Posted March 7, 2020)
At one time, it was fairly common to see signs at football games and other sporting events that read "John 3:16." If you have been a part of a community that emphasizes memorizing verses, this might be one that you memorized. The words have a familiar cadence even to those who don't attend church much:
For God so loved the world that he gave his only Son, so that everyone who believes in him may not perish but may have eternal life.
John 3:16 became a creed, a manifesto and most of all a test for many Christians. Becoming a John 3:16 Christian means that Christ envisions for all people one of two extreme outcomes – perish or have eternal life.
But John 3:16 does not stand on its own. In fact, it's just one phrase in a much longer conversation that Jesus is having with his disciples. Continue just one more verse and John 3:17 reads,
Indeed, God did not send the Son into the world to condemn the world, but in order that the world might be saved through him.
The Promise
Taken by itself, John 3:16 can seem like the map to a pretty narrow road. But together with John 3:17, it is a promise that Christ did not come to us to blame or shame. Christ did not come to earth to test if you are worthy enough, holy enough or even faithful enough. Christ came to love, feed, heal and embrace. Christ came to save the world. Not just some of the world – all of the world. And Christ came to do those things using the tools he left his followers – those who heard his words for the first time, and you and me today – prayer, healing, conversation, and breaking bread together.
We don't need to carry a sign that says "John 3:16." By our words, actions and the prayers of our hearts, we can be John 3:17 people today and every day.
This article was originally publishd in Mission Moments by the United Church of Christ. These articles tell stories of how United Chruch of Christ congregations are connected to the wider church.