Meet a Bald Eagle … and a Hawk, an Owl and 2 Kestrels
"On Eagle's Wings:" Live birds of prey to visit First Church on April 10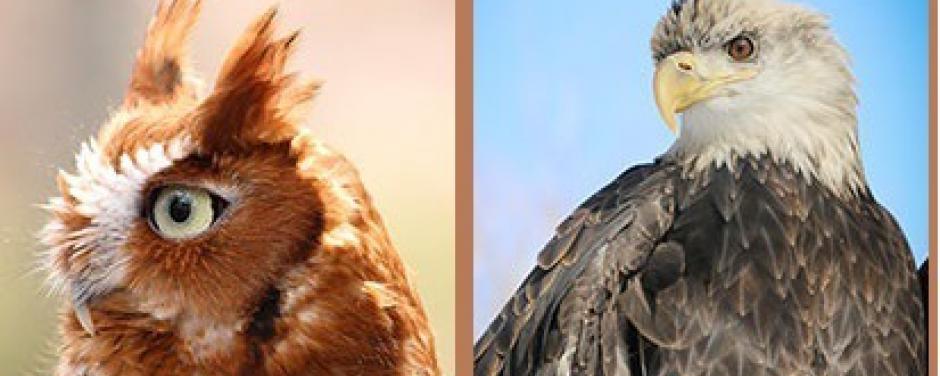 (Posted March 12, 2016)
Five birds of prey from Horizon Wings, raptor rehabilitation and education center, will appear in the gymnasium at the First Congregational Church of Danbury on Sunday, April 10, at 12:15 p.m.  
Join us and you will meet:
Atka: A two-year old male bald eagle. He was found in Washington state with an injured right wing, before he was transferred to Connecticut for care.
Lady Fianna and Spirit: These raptors are kestrels, which are members of falcon family. Lady Fianna was found in her nesting box with a badly injured leg. Spirit lost part of his right wing when he was caught in a hangar door at Bradley Airport.
Herkimer: A red eastern screech owl who broke his wing when he struck a window.
Dakota: A red-tailed hawk who was hit by a car.
Mercy Begins with "Me"
Each of these birds were rescued after serious injury, and brought back to health by kindness and compassion. They now have a second life as teaching animals to show us what mercy and concern for the planet that God gave us can achieve. This is our early gift to the community for Earth Day.
This presentation is the third and final presentation in Mercy/Me, our Lenten series that explores various aspects of mercy. Our partners at Horizon Wings will talk to the need for merciful care of the earth and our fellow creatures. Previous Mercy/Me sessions:
The quality of the giving person who thinks of ways to help those who help others now and in the future. Financial planner Ann Fowler-Cruz answered questions about planning for our own financial futures, including making a last will and testament.

​
Comforting the afflicted, specifically those who suffer from depression and bipolar disorder. Psychotherapist Ann Lord Wennerstrand helped us explore the ways we can help those with emotional and mental disorders, especially those who are at risk of suicide.
The First Congregational Church of Danbury, United Church of Christ, is committed to be a growing, multicultural, Open and Affirming community of believers and seekers, who participate in Christ's ministry of reconciliation. (II Corinthians 5:16-21)