Blessed with Musical Talent
Harmonium and voices raised in praise.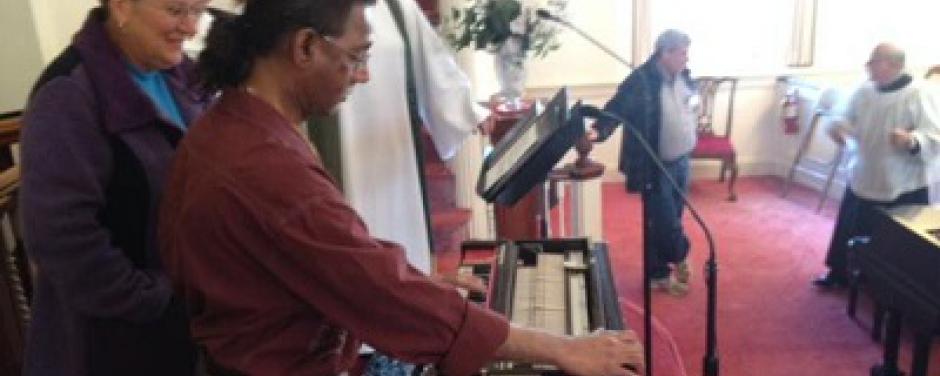 (Posted October 8, 2015)
We are so blessed to have so many special people in our congregation who can sing, play an instrument or do both! A special thanks goes to Sanjay Patel for playing his harmonium during communion 
(photo above)
. An harmonium can be small or large. It has bellows that need air to help create the sound through the reeds. His instrument has two scales. He pumps the instrument with one hand, like an accordion, and plays the melody with the other hand. He has a choice of six keys from which to choose. (Large harmoniums were used at churches that weren't able to afford an organ.) Sanjay used to play in a band, but he mostly enjoys playing for family gatherings. We hope he will offer to play for us again.
I also want to thank Kelly for singing a lovely solo, and leading us in the singing of hymns. I encourage use of the microphone by all soloists, especially so those who use hearing enhancement devices can hear better. Should you be unable to hear our soloists, would you please let me know? 
This Sunday I hope to have at least a quartet to sing an inspiring upbeat anthem. Again if anyone out there would like to join the choir, meet us this Sunday at 9 a.m. in the music room.
The following Sunday, October 18, is Jazz Sunday.
Peace and warmth through music -- Jim Moriarty