Are you ready for an emoji Bible?
A translation in the vernacular of the people in their own time.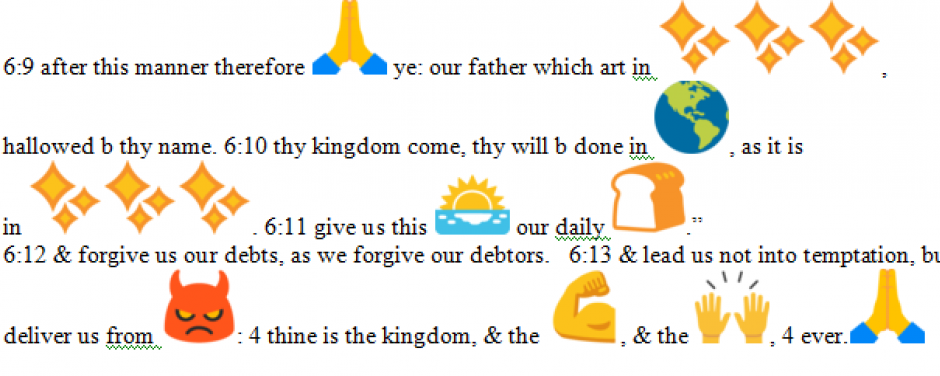 (Posted June 3, 2016)
Almost all of us church-going Christians know at least a little about all the different translations of the Bible. The King James comes to mind, as do the Revised Standard Version and the New American Bible.
But prepare yourself: There is another version just released to appeal to our text-savvy younger people, and it's mostly written in "Emojis." An Emoji, for those of you old enough to still have an AOL account or to automatically shake a bottle of milk before you open it, is a tiny pictogram, not unlike the old "smileys" of a computer generation past. An Emoji is the shorthand that anyone, from kids up to age 30+ use when they converse with others.
Someone with a little creativity and time on their hands has created The Emoji Bible. Now, there may be some among you who rail a little bit at the idea of this, when so many elegant translations exist. And you'd be right. But at the same time, the very principle that helped form many of the Reformed denominations, including ours, is based on the idea of the right to translate the Bible into the vernacular "of the people in their own time." And in some ways, especially for the generation of young people seemingly disenfranchised from religion and not easily drawn into reading Scripture, I see a benefit in piquing their interest. It was George Steiner, literature critic from Cambridge, who said, "Without translation, we would be living in provinces bordering on silence." I tend to think that providing our young people with the occasional interspersed Bible translation from the Emoji Bible might just get them to slow down and think about the words. For your enjoyment, we've included The Lord's Prayer (above, see what we did there?) in Emojis. See you Sunday.- Pastor Pat Kriss