Sunday, November 17, 2019
This Sunday:  Jazz Sunday / Stewardship Sunday
Children's Christmas Rehearsal (10 – 11 a.m.)
From Reverend Pat Kriss
Let the floods clap their hands;  let the hills sing together for joy
at the presence of God, for God is coming to judge the earth.-- Psalm 98
It's always struck me somewhat oddly that here, near the very end of the Church's liturgical year, the scripture we read focuses on the End of the World, and judgment of all. Wait…. it's the beginning of the holiday season… I've got all these things to do…. and it's the end of Church Stewardship Sundays. And it's ALSO the End of the World? Jesus, is THIS your idea of Good News?  That you and your Father are coming to judge the living and the dead? Right NOW?? That's going to some kind of Jazz Sunday, all right!
But such is the structure of our Scriptural readings. And, if you listen carefully on this Sunday, you'll understand what very good news it is. Everything we read this weekend either focuses on the good things we hope and pray for, or  the trials and darkness we are all witnesses to right now. You know, the ones that make us wonder if the good people of this world will be enveloped by its present darkness. 
But that's just the point. It's like the old "billboards from God"  that used to be displayed along the highways, that had God observing earth and saying, "Don't make me come down there," or, "Do that one more time and I'll stop this car!"  It was humorous. But it's also true. God sees how we're treating one another, whether or not we're living godly principles in our daily lives. And right now, as our Sunday reading from Isaiah 65 tells us, it's about to change.  God says:
For I am about to create new heavens and a new earth; the former things shall not be          
remembered or come to mind…
no more shall the sound of weeping be heard in it, or the cry of distress.
No more shall there be in it an infant that lives but a few days,
or an old person who does not live out a lifetime….
They will call and I shall answer…
The wolf and the lamb shall feed together, the lion shall eat straw like the ox;
but the serpent-its food shall be dust! They shall not hurt or destroy on all
my holy mountain, says the Lord.
These are not merely idle wishes. They are what is promised to God's faithful people who endure the present darkness, and let their trust in God prevail.
I believe most of us have seen the truth that lies in M. Scott Peck's statement:
"The truth is that our finest moments are most likely to occur when we are feeling deeply uncomfortable, unhappy, or unfulfilled. For it is only in such moments, propelled by our discomfort, that we are likely to step out of our ruts and start searching for different ways or truer answers."
Join us Sunday and we'll explore together the Good News about this sorry old World full of broken people, and learn that God is, indeed, still in the driver's seat. - Pastor Pat Kriss
---
From Jim Moriarty, Music Director
Music is a Therapy: "It is a communication far more powerful than words, far more..."
This Sunday is Jazz Sunday. Speaking of Doug Hartline and his band, set aside the evening of December 7, for the Doug Hartline and Friends Holiday Concert. It will be held in our wonderful sanctuary, begins at 7:30 and cost $10. This is the Fourth Annual Concert which we sponsor and is for the whole family. Child care will be provided.
Keep those 'favorite hymns' coming. I have quite a list so far and will keep a record of all titles, letting you know which are most liked. And, please send in a small donation for the organ tuning. Many small donations add up to a good amount. Thank you in advance.
Pat thanks all those parents who have been bringing their children to church for the Pageant rehearsals.
The Danbury Music Centre's Annual presentation of Handel's Messiah is the evening of December 21, at 3pm. Our sanctuary is usually filled for this event, so plan on arriving early. A donation will be requested.
Another Holiday Concert being held in our sanctuary is on November 24. The Master Chorale, directed by Tina Heidrich, along with several instrumentalist, will present a lively concert of seasonal songs. This has also been an area favorite for years. Early arrival is again suggested. There is a charge of $30 at the door.
Peace and Joy through music. - Jim Moriarty
---
ARC Inaugural Thanksgiving Jazz Concert
A Thanksgiving jazz  concert on Monday, Nov. 25 (7 p.m.) will benefit the Association of Religious Communities (ARC). Performers are Jonny Chapman, Dave Savitsky and members of the New Milford High School Jazz Band.  Tickets $5 at the door.  For more information go to: www.arcforpeace.org.
Great merchandise, low prices, very friendly staff.
Please consider volunteering even for a few hours – contact Pat Moriarty or Terry Hansen. 
Fridays:  9:30 a.m. – 2 p.m.; Saturdays 10 a.m. – 2 p.m. 
Extended Holiday Hours begin December 6th:
Fridays 9:30 a.m.- 2:30 p.m.; Saturdays 10 a.m. - 3 p.m.
Next Session Tuesday, November 19 at 3 p.m.  Even if you did not come before, please come and join us (call the church office before the next session so you can be sent the bible passage for that week).  Open to all! 
---
Faith and Foam
Tuesday, November 26, at Three Brothers Diner in Danbury, starting at 6pm (242 White Street). If you haven't heard of these kinds of meet-ups, they have become very popular for churches to run in communities all over the country. The intention behind the meet-ups is this: For many people because of work or other commitment going to a house of worship on the weekend just doesn't fit with the way their lives unfold. But that doesn't mean that they don't have a spiritual life, or, for that matter, that they don't have questions or opinions they'd like to share about faith and religion. It's the informal kind of discussion that lends itself to a brew or a drink among friends after work.
---
HOLIDAYCOLLECTION: DECEMBER 8
Donations should be brought to church on those Sundays, or you may leave them in the church office during the week.
Items most needed:
Holiday Collection - Food and Toys
| | | |
| --- | --- | --- |
| Canned Coffee (l lb. size) | Small Toys | Coloring Books |
| Crayons | Balls | Stuffed Animals |
| Kid's Size Socks and Mittens. | Cookies | Hot Chocolate |
| Cereal | Candy Canes | Boxed Snacks |
---
DONATE POINSETTIAS & WREATHS
The 2019 Holidays are rapidly approaching and it will be time, once again in First Church tradition, to decorate our beautiful church with POINSETTIAS & WREATHS.  If you would like to place an order, please complete the form below.  Mail the form, with your check payable to First Church, to FCC, 164 Deer Hill Ave, Danbury, CT 06810, drop the form and check at the church office or offering plate on Sunday, or email MaryAnn at fcdanbury@att.net.
___Wreath(s) $17.00 each =      ________
___Poinsettia(s) $15.00 each =   ________
                                                            Total Enclosed  =                   $________
Additional forms may be emailed to you – contact MaryAnn (fcdanbury@att.net)
~~~~~~~~~~~~~~~~~~~~~~~~~~~~~~~~~~~~~~~~~~
In Memory of or Honoring.... (circle one)
__________________________________________________________________________
Given by:
________________________________________________________________
TEL#__________________________   Taken after Service, December 24? ____   
---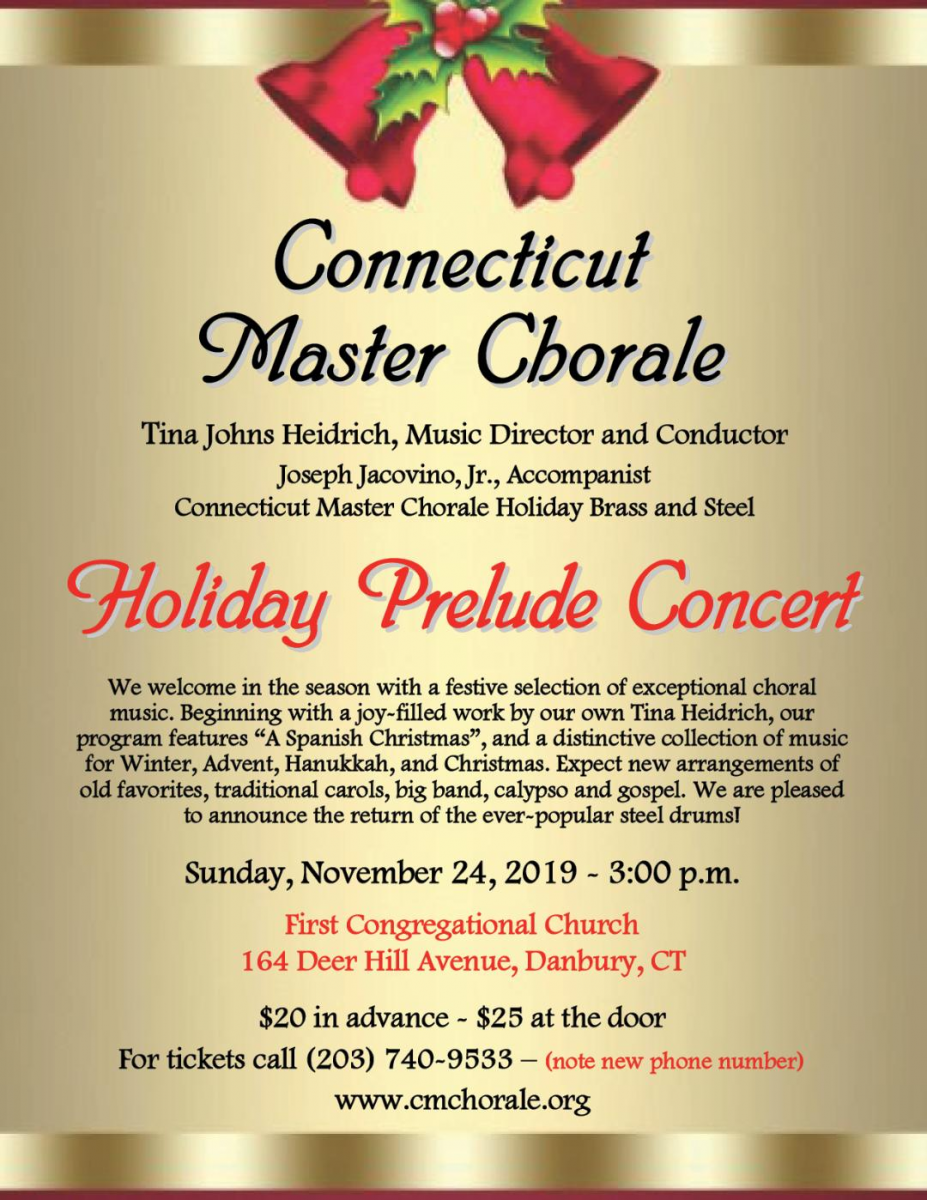 E-Tidings Date:
Friday, November 15, 2019