Sunday, June 23, 2019
This Sunday:  Rev. Pat Nicholas preaching
Friday, June 28 – "Boys in Hats" (see below)
Beginning of Summer Picnic and Concert
---
From Reverend Pat Kriss
Music is Life. That's why our hearts have beats. -- Cecily Morgan
Songs won't save the planet, but neither will books or speeches. -- Pete Seeger
First of all my thanks to Reverend Pat Nicholas who is preaching for me this Sunday so that Gary and I can have a 50th Anniversary weekend together. Much appreciated since I haven't taken a Sunday off since January!
Second of all, I want to encourage all of you to come join us on Friday, June 28 for a small "Let's Start the Summer" picnic, hosted by Chef Tom Kiyak, at church at 6 p.m. Afterwards, we'll enjoy a wonderful folk music concert by my well-known and very talented musical friends, Paul Bryant Smith and Eric Anderson, at 7 p.m.. Eric, who is pastor in Hilo Hawaii, is flying in just to make sure you all have authentic ukulele music to brighten your Friday.  Their Duo, Boys in Hats, is well known.
Not only are Paul and Eric talented singers who are known all over Connecticut, (they play guitar, banjo, pennywhistle and ukulele) but they're BOTH pastors themselves. This will probably be their only appearance in Connecticut this year. Donations made for the concert will help fund our Church's Music Program. This is also a fine show for your kids. They will enjoy it!
So if you've always enjoyed Folk Music and could stand a bit of humor and kibitzing from two very talented guys, I really encourage you to join us a week from this Friday at First Church.
As they say in Hawaii (and in Danbury), mahalo nui loa: many thanks to Reverend Pat Nicholasm, and all of you that I hope will show up for this fun evening. I will see you there! --- Pastor Pat Kriss
If you would like a preview of Boys in Hats in song, go to: https://www.youtube.com/watch?v=et286s7sKug
---
From Jim Moriarty, Director of Music
Life seems to go on without effort when I am filled with music" – G. Elliot
A big THANK YOU to our chancel choir who recently sang three anthems composed by Nancy Price/ Don Besig. These anthems were dedicated to Don who had a stroke last summer, which has permanently affected his arm. I was informed that he is not composing at this time, but that he and Nancy "...have done some new voicings of a couple of (their) older anthems".
And speaking of well-known composers, I presented Pastor Pat/choir with a copy of "An Advent Reflection", words and music by Joseph Martin who was commissioned by First Church to compose this anthem. It was published this year by Hope Publishing Company. The words reflected Pastor Pat's Advent theme "...from darkness towards light..." It was sung during the second Sunday of Advent when first responders were recognized during our service. An autographed cover sheet was also included. Joseph Martin has over 2000 published secular and sacred pieces.
The last Jazz Sunday until September was this past Sunday. We thank Doug and Ginny Hartline and the ensemble for enriching our Sunday services during the year.  On June 23 there will be a duet/choir. And a very special quartet is scheduled for our Independence Sunday service on Sunday, June 30th, which will include our annual post service Patriotic sing-along. Cheryl Hill will be our soloist on July 7th.
This will be the last e-Tidings article from me until July 11. 
Peace and Joy through music,
Jim Moriarty
---
First Church Knitters Group.  We plan on meeting to knit and crochet at 5:30 pm in the Parlor.  Everyone is welcome. Seasoned knitters and crocheters as well as people who want to learn to knit or crochet. Fellowship and friends meet to relax...call Heidi at 203-798 0476 or 203 826 6827 for more info. 
---
Deer Hill Thrift Shop Great merchandise, low prices, very friendly staff.
Please consider volunteering – contact Pat Moriarty or Terry Hansen. 
Fridays:  9:30 a.m. – 2 p.m.; Saturdays 10 a.m. – 2 p.m.
---
Bible Study:  In the parlor off Annie Orr Hall with food available, too. Even if you did not come before, please come and join us (call the church office before the next session so you can be sent the bible passage for that week).  Open to all!
---
Boys in Hats Concert
Friday, June 28, 2019 – 7 p.m. Food Offered at 6 p.m.
Featuring Connecticut's Own Guitar Duo --- Paul Bryant Smith and Eric Anderson. (More below.)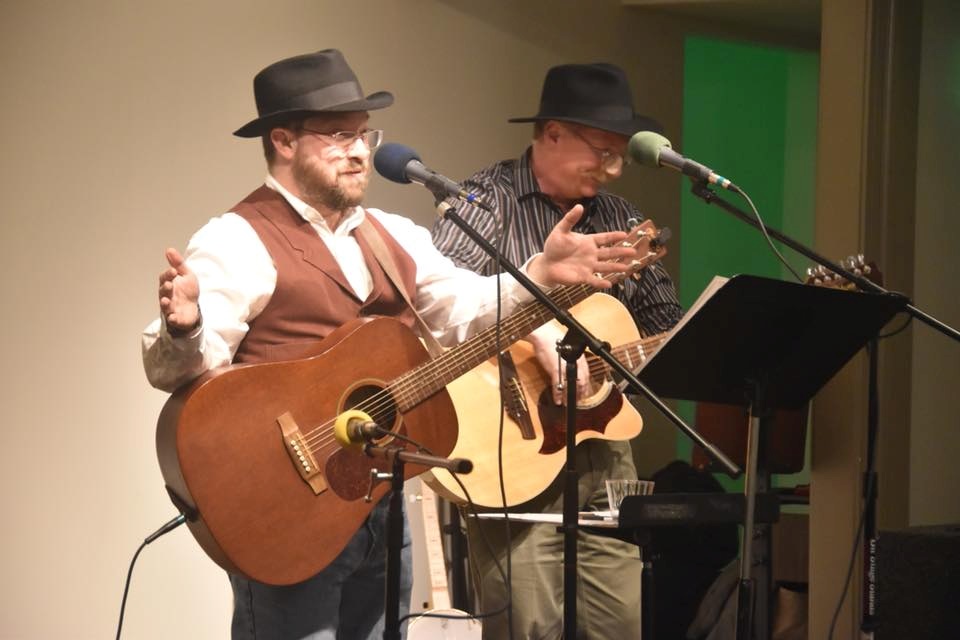 Paul and Eric, both pastors of churches in Danbury and in Hilo, Hawaii, entertain and thrill their audience with song and instrumentation that recalls the days of Peter, Paul and Mary, and Pete Seeger.
From banjo to ukulele to twelve string, these guys bring the musical joy to their selection of tunes.
Come Support First Congregational Church's Music Program And Be Delighted at our Beginning of Summer Picnic and Concert!
All donations will benefit the Music program at First Church Danbury,164 Deer Hill Avenue, Danbury, CT 203-744-6177