Sunday, June 2, 2019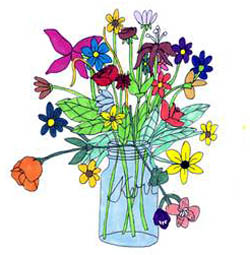 This Sunday:  Communion (No Church School)
Traffic Alert for this Sunday: 
Portuguese Day Parade begins on Deer Hill Avenue at 10:15 a.m.
- Traffic Will be Impacted -
---
From Reverend Pat Kriss
God is ruler!
Let the earth rejoice;
let the many coastlands be glad!
Clouds and thick darkness
are all around God;
righteousness and justice
are the foundation of God's throne.
This is the time of the year where sunshine and storms, hail and falling blossoms follow us on our pathway through Spring. We're reminded that all of that beautiful greenery comes at a cost – of what seems like never-ending rain showers as we yearn for the light of Summer. Sunday's Psalm 97 reminds us of this, for whatever else we have planned, God is ruler, not us.
Life is a lot like that, as well. These days are marked by too much cloudiness, too much darkness that seeps into our daily conversations as we wonder when goodness and righteous people will prevail. In the meantime, there are plenty of people, we learn from the Acts of the Apostles, who stand ready and willing to accuse those who are different than us of being witches, and willing to conduct witch hunts of the innocent. It requires patience and the awareness, as the Psalm reminds us, that righteousness and justice are the foundations of God's throne, and they underlie everything within the Divine plan, but perhaps not with the rapidity we want to see them manifest. Like Springtime storms, we need to endure the darkness while waiting for God's "lightning bolts" to deliver justice to those aching for the truth. Join us this Sunday as we explore darkness and light in all of its God-given glory. - Pastor Pat Kriss 
---
From Jim Moriarty, Director of Music
"I want to do a musical movie, like Evita, but with good music." – Elton John
Reginald Kenneth Dwight (Elton John's real name) will almost have his wish when the movie "Rocketman" opens this weekend. Having already seen the premier I must say that the struggles and relationships that Elton encountered throughout much of his life are well stated in this biography. The music throughout the movie is a reminder of just how good his songs were with the help of his lyricist Bernie Taupin.
But, no, there will be no Elton John tunes during our Sunday service although he did compose a song title "Burn down the Mission". Part of the refrain is "...burn down the mission Lord, if we're gonna stay alive, watch the black smoke fly to heaven, see the red flames light the sky..." Not quite the same scenario as the violent earthquake described in Acts – this Sunday's Bible reading.
Our chancel choir is scheduled to sing this Sunday and next – choir recognition Sunday.  The last Jazz Sunday until September is scheduled for June 16. And a very special quartet is scheduled for our Independence Sunday service on June 30.
Peace and Joy through music,
Jim Moriarty
---
"Faith and Foam" at Three Brothers Diner in Danbury, starting at 6 p.m. (242 White Street). If you haven't heard of these kinds of meet-ups, they have become very popular for churches to run in communities all over the country. The intention behind the meet-ups is this: For many people, because of work or other commitments, going to a house of worship on the weekend just doesn't fit with the way their lives unfold. But that doesn't mean that they don't have a spiritual life, or, for that matter, that they don't have questions or opinions they'd like to share about faith and religion. It's the informal kind of discussion that lends itself to a brew or a drink among friends after work.
---
First Church Knitters Group.  We plan on meeting to knit and crochet at 5:30 p.m. in the Parlor.  Everyone is welcome. Seasoned knitters and crocheters as well as people who want to learn to knit or crochet. Fellowship and friends meet to relax...call Heidi at 204 798 0476 or 203 826 6827 for more info.  Upcoming date- June 13.
---
To submit article ideas for the website or Facebook, contact Greg Pings: greg_pings@hotmail.com
---
Deer Hill Thrift Shop 
Great merchandise, low prices, very friendly staff.
Please consider volunteering – contact Pat Moriarty or Terry Hansen. 
Store Hours: Fridays:  9:30 a.m. – 2 p.m.
Saturdays: 10 a.m. – 2 p.m.
---
Bible Study:  In the parlor off Annie Hall with food available, too. Even if you did not come before, please come and join us (call the church office before the next session so you can be sent the bible passage for that week).  Open to all!
---
Our June Fellowship Luncheon is on Tuesday, June 11 at 12:30 p.m. in the Parlor.  Please bring a dish to share and welcome in Summer!!
---
Next Sunday:  Choir and Church School Recognition