Sunday, January 12, 2020
From Reverend Pat Kriss
"Waiting for the spark from heaven to fall." -- Matthew Arnold, 19th century poet
It all begins with water.
Today I read with a great deal of pride how one of our high school students here in Danbury – Alton Spencer --  has been working with NASA and the data from its TESS satellite. TESS is short for "Transiting Exoplanet Survey Satellite." It has sent back data that has determined the size of a planet that is 100 light years away, and has been named Tatooine. Now, for any non-Star Wars fans, Tatooine was a planet in one of the films that has two stars – exactly like this little planet that was recently discovered outside of our solar system. It's the first planet outside the system that might be able to support life. Now 100 light years isn't just around the block. But in terms of the Universe, it is. What the NASA team and the students working with them sought to determine is – is its climate at the right temperature to allow water to form on its surface?
It all begins with water.
Scientists think, when the right elements exist along with water, all it takes is "the spark from heaven to fall" for life to begin. That's part of the beauty – and irony – of life here on earth. Without water, life does not begin. At the same time, every person on earth has a body that is comprised of at least 60% water. In fact, our brains are at least 75% water. Despite the opinion of anyone who thinks they are better or different from anyone else, we are all exactly the same. No more. No less.
It all begins with water.
So it really isn't surprising that, when it comes to the symbolism of our spiritual lives beginning anew, it takes the form of baptismal waters. This Sunday that marks the Baptism of Jesus, we know that the act of Baptism isn't even primarily about washing away sins. When Jesus came to the Jordan River, he was pure. And yet he chose to be baptized to mark a new beginning –- in his case, the very beginning of his ministry to us -– emerging from the waters in the arms of John the Baptist.
It all begins with water. But then sometimes it goes downhill from there.
What confounds me is how some people who call themselves Christian can live lives so far removed from what Jesus taught must be our path, if we are following his examples. It confounds me how anyone can allow politics and power to make them think that they are better than others, that they are the only "Christians" and declare that anyone who believes differently than they do is "not a Christian." This Sunday we're going to explore what it really means to be Christian, and to be Christian in a world that is such a tinder box of conflict. Join us for what will be a thought-provoking session about who we really are. --- Pastor Pat Kriss
---
A Call to Help Some of the Creatures Burned in the Australian Bush Fires
As you know, our Knitters' Group has provided countless prayer shawls and mini-shawls for people at the most difficult times of their lives. But now, in the last few weeks a call has gone out across the globe for people to create various knitted items to help these animals in Australia in their time of need.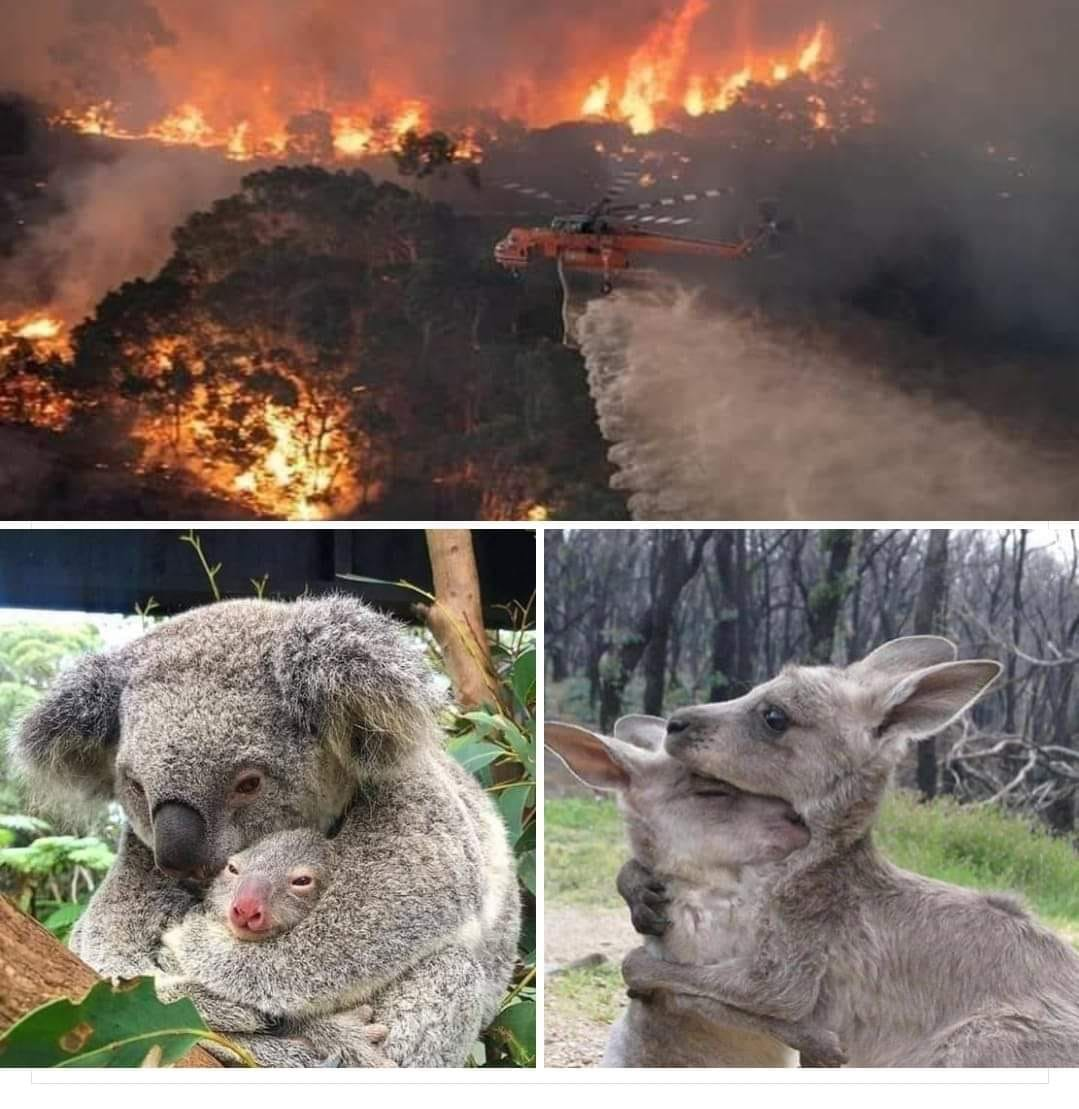 (Photos courtesy of CNN)
Our knitters group, headed by Heidi Palmer, is about to start making these, and invites you or anyone else you know who knits to join us here at First Church starting January 9 at 5:30 p.m. We will begin crafting mittens and blankets for animals recovering from severe burns. Be a blessing to God's creatures who could not defend themselves against the fires. Call Heidi at 203-798-0476 for more information. And if you have yarn you would like to donate, please let us know.
---
From Jim Moriarty, Music Director
"When you're happy you enjoy the music, but when you're sad you understand the lyrics..."   Frank Ocean
Several people submitted their favorite hymns last month. This month I am making every effort to include them in our services as appropriate. Of course, one reason is that we are hoping that the more familiar the hymn, the more people will sing! 
Next Sunday, January 19, is the first Jazz Sunday of the New Year!
Happy New Year!
Jim Moriarty
---
Deer Hill Thrift Shop
Great merchandise, low prices, very friendly staff.
Please consider volunteering even for a few hours – contact Pat Moriarty or Terry Hansen
 Friday 9:30  a.m. - 2 p.m. and Saturday 9:30 a.m to 2 p.m.
E-Tidings Date:
Thursday, January 9, 2020